RICARDO TRADE – 22nd January, 2023
Expert Speaker – Ricardo Trade, Deputy CEO FIFA World Cup Qatar 2022 & CEO LOC FIFA World Cup Brazil 2014
Mr. Ricardo Trade, Deputy Chief Executive Officer of the FIFA World Cup Qatar 2022 was the expert speaker for the 3rd CIES Conference for the participants of the 4th edition of the PILLAI/FIFA/CIES Programme in Sports Management on the topic FIFA WORLD CUP QATAR 2022. The session was conducted at Dr. K. M. Vasudevan Pillai Campus on 22nd January, 2023. Mr. Trade has a Bachelor's degree in Business Administration and Management from PUC Minas. He was also the CEO of the Local Organizing Committee (LOC) of the 2014 FIFA World Cup in Brazil. Mr. Trade gave a detailed account of his experiences helming large events across the world.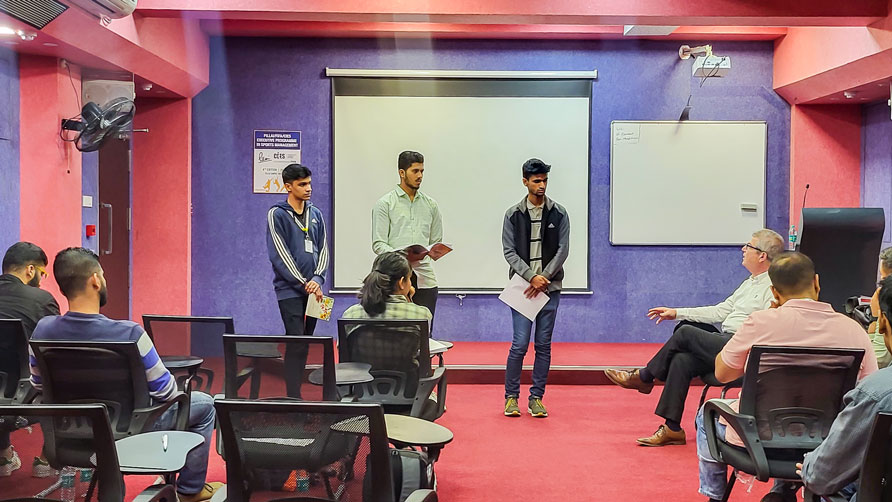 Mr. Trade started off the session by introducing where it all started, and what planning went into hosting the FIFA WORLD CUP QATAR 2022. He spoke about the additional investments Qatar had to make in infrastructure. The country invested heavily in transportation infrastructure, one of the most known projects being the Doha metro and tram service, which allowed fans to travel around the city during the tournament with ease.
Mr. Ricardo mentioned the technological advancements made for hosting the cup and spoke about the app Hayya which was designed solely for easy entry permit to the country during the matches. He presented how a lot of thought had gone into training base camps venues which were designed to avoid air travel and allowed only minimal transport times giving more time to players for training, rest and recovery. It was emphasized how Qatar is already a popular destination for tourists, and how the World Cup brought in an influx of visitors from around the world following the tournament's conclusion.
He mentioned how the 2022 World Cup in Qatar will undoubtedly leave a lasting legacy on this Middle Eastern Country. Being the first Arab country to host the prestigious international football tournament, Qatar might have encountered various logistical challenges before the launch of the event. But the government used these opportunities to make significant investments in creating the First ever fully demountable FIFA World Cup venue using Modular steel and 974 sustainable modified shipping containers which can be totally dismantled and donated to a country / repurposed and reused giving a Greener construction and operations setting new tournament sustainability standards. All in all the participants received a deep and rich insight into the preparations that go into hosting mega events like the FIFA World Cup.