Expert Speaker – Claude Ruibal, Managing Director – Ubiquity Sports
Mr. Claude Ruibal, Managing Director – Ubiquity Sports was the esteemed speaker for the final CIES conference for the year on 16th April, 2023. Ubiquity Sports is a consultancy business that advises and invests in sports and technology. He was previously Senior VP of Digital, Production & Sport Solutions at Infront Sports & Media and served as Chairman of Omnigon / InfrontX and HBS (a global leader in Host Broadcaster solutions for major sporting events). Prior this, the speaker was Global Head of Sports Content Partnerships at GoPro and before that was Global Head of Sports Partnerships at Google / YouTube and co-founder and CEO of Universal Sports / Olympics channel in the USA. He is a graduate of Georgetown University Law School and University of California, Santa Barbara.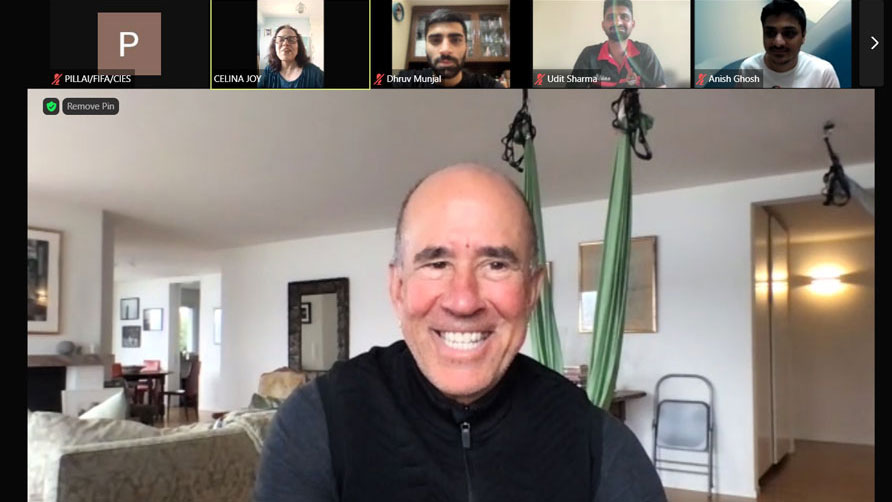 The conference began with the introduction of a case study (new motorsport company competition launch) which was previously shared with the students. It highlighted the topics/ questions to be covered during the conference under which the case study will be discussed in detail at the end of session with participants sharing their thoughts on the same. The session began with different investment options to be looked into while initiating a project in sports. It was followed with detailed discussion on different types of right holders/ stake holders, types of media and commercial rights, the sponsorship sales etc. Mr. Ruibal also shared different types of revenue sources for the launch of the new sports project. The conference then moved on to discussing methods for leveraging the best out of digital assets. Further, the marketing strategies were also discussed during the session. At the end, the participants were asked to present their thoughts on the case study shared with them regarding the launch of a new motorsport event. The four groups discussed the following questions:
Approach to raise new capital for the new motorsport event.
Approach to monetize the competitions through media and sponsors.
Best ways to leverage digital and any other content assets.
Way to go about for marketing the competitions.
Mr. Ruibal was impressed with the thoughts shared by the four groups and shared his thoughts on taking a holistic approach for large projects like these.